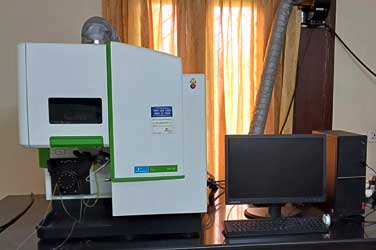 Inductively coupled plasma-atomic emission spectrometry is an analytical technique used for the determination of approximately 70 elements in a variety of matrices. It is a type of emission spectroscopy that uses plasma source to dissociate the sample into its constituent atoms or ions, exciting them to a higher energy level. They return to their ground state by emitting photons of a characteristic wavelength depending on the element present. This light is recorded by an optical spectrometer. When calibrated against standards the technique provides a quantitative analysis of the original sample. All kinds of dissolved samples can be analyzed, varying from solutions containing high salt concentrations to diluted acids. A typical ICP-AES consists of a sample introduction system, ICP torch and gas supply, Radio Frequency generator (RF), spectrometer, detector and data collection unit.
Applications
Environment: Drinking, ground and surface water and in waste water analysis, Soil and sediment analysis
Samples of biological origin: Plant and animal samples, Clinical and forensic materials, Food and animal feeds.
Geological materials: Metallurgy: Steel and iron matrices, nonferrous metals, noble metals and special alloys.
Material sciences: Semiconductors and ceramics.
Industrial applications: Chemicals and fertilizers, galvanizing/electroplating baths, brines and salts, cement, gypsum, calcium matrix and glass.
Specifications
The spectral range is 165-900 nm with resolution of < 0.009 nm @ 200 nm. Fourth-generation 40 MHz,free-running solid-state RF generator, adjustable from 1000 to 1500 watts, in 1 watt increments.
Instructions
Sample Requirement
Solid: ~50 mg (powder), Thin film: 1.0-1.5 cm, Solution: ~5 ml. Solvent must be specified for solution studies.
Instrument Status
Working
Analytical Charges
Facility/ Equipment
Rates for sample analysis (Rs) Service tax -18 % extra)

KSCSTE Labs
Edu. Insti.
Govt R&D Labs
Industries
ICP-AES
185.00 (+40.00*)
370.00 (+80.00*)
740.00 (+160.00*)
1110.00 (+240.00*)
ICP-AES: Rates are for per element per sample including standardization for the first element. The rates for every additional element is given in brackets(*). Sample digestion charges extra.