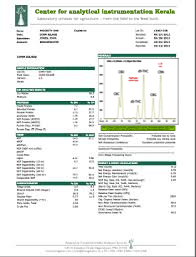 The typical turnaround time for analysis is 10 working days after the receipt of the samples at CAI-K, although alternative turnaround times may be arranged to fit your needs. You will be notified upon the receipt of your samples. You can check the current status of your sample in our laboratory via submitting your e-mail ID (provided in the sample submission form) in our Sample Tracking form given in the left side bar of this website. The status will be sent to your e-mail ID.
A Certificate of Analysis is issued for each test upon completion of analysis and a copy of the results sent by e-mail, followed by a hard copy delivered via India Post. Interim results are available upon request. Reports and Certificates are issued in our standardized format; however, customized report formatting is also available upon request. The invoice for sampling and analytical services accompanies the hard copy report. The report is also accompanied by a Statement of Analysis that lists the sampling/analytical work performed and their respective costs.
The report you receive from the laboratory will include: Sample Identification, Analytical Data, Concentration units (e.g. ppm), Date of analysis, Method used, Detection limits, Quality Control Data Summary (QC % Recovery, blank & duplicate data), any special problems encountered during analyses (interferences) and its effect on results will also be reported.
All work is treated with strict confidentiality. Results are released only to the client who orders the work unless otherwise specified in writing. The analytical data/spectra are provided only for research and development purpose. These cannot be used as certificates in legal disputes.
Please review your results upon receipt of the report. If you have questions, please contact the lab at next working hours. Please provide sample reference number in all your communications to CAI-K. All Communications should be addressed to :
The Scientist-In charge
Centre for Analytical Instrumentation - Kerala
KSCSTE - Kerala Forest Research Institute
Peechi P.O, Thrissur, Kerala - 680653, India.
Tel: +91-487-2690147
E-mail: caik@kfri.res.in